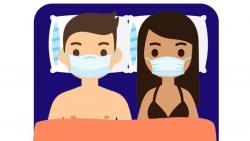 We are being told that we can't mix outside our households, that it is really important that we continue to socially distance and not have contact with other people. Living your life two meters from the rest of humanity is a harder thing to do that you might think! We are naturally social creatures, and even the most introverted of people need human contact from time to time. The huge change in lifestyle that has been caused for so many people has affected their health and well being more than most want to admit. This is true for people's sex lives.
Maintaining your fuck buddy during Covid can be tough

Trying to hook up with a fuck buddy or meet up with your friends-with-benefits whilst sticking to the COVID-19 rules is becoming harder every day. The stricter the rules, the harder it is to stick to them. Having regular sex is important not just for our bodies but also our minds. It gives us a sense of self worth and during sex a large number of "happy hormones" are released which directly change our body chemistry to make us happier. Sex is important, and reducing your ability to booty call your fuck buddy can be something which can have a huge impact on your life and sense of well being.
Ways around the restrictions for your fuck buddy

There are lots of ways around this. You can ensure that you have them inside your bubble, you can ensure that you keep track of who is meeting up with who, or that you plan when you and your fuck buddy are going to meet in advance and take the week before to not see anyone else and monitor for symptoms. You can do all these things, but one of the best things that I have heard about is installing your fuck buddy into your household.
Sex on tap – install your fuck buddy into your household

One friend has "installed" their fuck buddy into their house. They said they had to really sell it to their fuck buddy at first but that it has worked out great for both of them. Now that they are under one roof there are no issues with them having sex. They are in the same "household" so there are no issues there, and the best part? You get to have sex on tap. Seriously! They both now work from home, and suddenly sex is no longer just in the evenings when one calls the other. It is all the time! Quick break between meetings? Have sex. Oh is that lunchtime? Have sex. Oh look I have to work late tonight, which would usually mean sex is not happening, instead just before they start their evening work session… have sex! It is great!
The one thing you must do

If you do this there is one thing that you must do if you are going to make it work. Have a conversation and re-establish the rules of the fuck buddy relationship before the move. It is easy for this to start to change for one party but not the other and that would lead to disaster! As long as you talk about it first, it is unlikely to happen.
If you do this, you are a god!