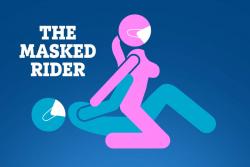 Welcome to December and one of the most unusual Christmas holidays that we have seen here in the UK in many years. Up until recently it was thought that no matter what part of England, Wales or Scotland you lived, you were going to be able to spend 5 days with your friends and family. That all changed just 48 hours ago when major announcements made first Boris Johnson then other leaders across the country were made. There is apparently a new strain of the virus that is easier to catch, it seems we have it in the UK, and it is spreading fast. This has meant the unfortunate result that they have pretty much cancelled Christmas. This is all following weeks of the country being told that cancelling Christmas would be "inhumane" which whilst I feel is somewhat of an exaggeration, it was a strong promise that was gone back on.
What does this mean for my sex life?
What does this all mean for your sex life? Well the first thing is that if you are looking for a fuck buddy and don't have one, hooking up right now is going to be a little harder. The Christmas period is usually a great time to do some adult dating. Everyone wants someone to kiss under the mistletoe at this time of year. Whilst Christmas is usually a family affair, New Years is a great time to pick someone up / be picked up! People are out, having fun, and everyone is out to have fun! It is often literally the very last chance to have sex in 2020 and people want to take advantage of that. Fair enough I say. The new announcements are going to make that difficult, the main reason being is the closing of many of the pubs and other gathering places across the country.
I don't have a fuck buddy right now. What can I do about it?

It seems that meeting someone online is currently the best way to find a fuck buddy or a no strings attached relationship. People have become more open to meeting online and are using the extra tools that it provides. It has become normal to do video calls with people that you haven't met as a way of getting to know them. This means that you can see what people look like before you meet them and see if you get on. With a decent webcam, you can even have some flirty fun whilst online before you have ever met in person!