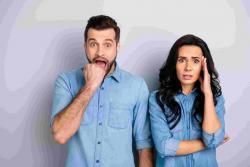 When it comes to having sex with a fuck buddy, there are number of things that we can all get scared or nervous about. Sex is a hot topic and it is very normal to be nervous or scared about it, especially in these times where it may have been illegal for you to have sex with a new fuck buddy for some time now due to the coronavirus pandemic. Putting COVID-19 aside, there are still a lot of reasons that people get scared. Here are the top 10 things that people in Britain (Britons) harbour as their biggest sex fears.
Being found unattractive by their fuck buddy when naked

Everyone, even the most confident, is conscious when naked because we do it rarely. We spend most of our time clothes, so being undressed around someone and being nervous is natural. If you are feeling this, a good way to boost your confidence is to just exercise more. Hit the gym!
Your fuck buddy won't orgasm

We attune our measurement of success in bed, often, on whether the other person had a good time The ultimate, did they orgasm? Ironically worrying about this makes it more likely to be a problem, so breath, relax, and know that sometimes it doesn't happen and that is okay.
That you are bad at sex

You are not. How can I say this with confidence when I don't know you? The best sex in the world is the sex that you are having right now, so if you are having sex with someone, no matter your experience, in that moment you are literally the best sex they have ever had. Trust that.
Your fuck buddy has an STI

This is a legitimate and sensible thing to consider, and this is a fear that is usefully keeping you safe. The fixes are easy. Use a condom until you both have a test. Then go wild knowing this is not an issue.
Pregnancy from a fuck buddy

This is a nightmare if it happens. See above for the condom conversation.
Too much body hair

We all have hair, it is natural. My advice, rather than worry about it, have a chat to your fuck buddy. If it is an issue for them you can always get out the razor.
Premature ejaculation

Kegel exercises, breathing, mindfulness… these are all things that can help prevent this from occurring, so if this is a worry do your prep.
You are out of practice

There is only one fix, so go get laid!
Sex is painful

If this is an issue for you, talk to your fuck buddy about it and ask them to be extra careful and gentle. Doing things slow can be a real turn on in of itself!