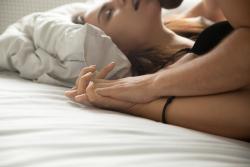 With the UK on lockdown officially for another three weeks, as announced by the government just this week, the country is starting to accept that the end to the current lockdown may be further away than first thought. The three-week extension was phrased in a way that suggests that there may be another three-week extension, then another, then another… all the government have committed to is to review the lockdown in three-week intervals. The situation is fluid so things may change, and if they do, they may change quickly, but for now, we are looking at a lockdown well into next month at the least.
The lockdown has had a huge effect on our day to day lives. It has stopped many of us from working, it has prevented us from seeing our friends and families, the very basic day to day joys such as going to the pub or hanging out at your favorite meet up point has been stripped away. That the lockdown has also affected our sex lives is no surprise at all!
The coronavirus has an extremely polarising effect on people's sex lives. For anyone not living with a lover, it has massively reduced the amount of sex that they are having. People are more hesitant to mix houses and the usual places that you might meet a new fuck buddy or hook up with someone are now all closed. Sex has become scarcer than ever at a point where people have more time than ever to be having sex! On the complete flip side, those of us with "live-in lovers" whether that is a full-time relationship, a fuck buddy in the same house, or even an easy booty call for a hook up with the neighbor, these people are having more sex than ever! Lockdown has provided the opportunity to get down and dirty and all times of the day and night! Those people on furlough or with jobs that can not be done at this time, have very little else to do right now, and sex is a great option. The possibility of injury or death has long been recognised as an aphrodisiac, causing people to want to have sex more. COVID-19 has made people more open to meeting a fuck buddy than ever before, as each person's biology drives them to find a fuck buddy for their own.
So, if you are not having sex at the moment, and would like to be, my top tip is either "install" a fuck buddy at your place or allow yourself to be "installed" at someone else's place! If you are living in the same place as your fuck buddy, you could be having a lot of fun right now… and if you don't have one, now is a great time to pop a profile online to find one.