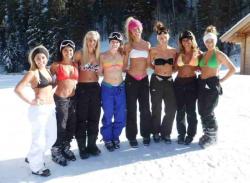 Welcome to February, the shortest month of the year but also sometimes the most fun! February is a month that brings with it an abundance of potential opportunities. The 14th of February is valentine's day, one of the best days in the year to have a hook up or find a fuck buddy when meeting people in person. Why is it so good? Simple, if someone is out without a partner on valentine's day, it means that in nine out of ten cases, it is because they do not have a romantic partner. If they did, they would not be spending their valentine's day separate from that romantic partner, which means if they are out alone, they are single. This means that almost every girl/guy you speak to on the 14th is single! It is like going to a singles night without having to actually go to a singles night. It can lead to some really interesting results.
February is also a very popular time to take a ski or snowboarding holiday. Winter holidays are such fun. You are outdoors in the mountains, you are doing a physical activity which is great for your body and releases all sorts of happy hormones into your system to perk you up and, depending on where you go, there is a good night life where you can easily find a fuck buddy for the week. This has become more difficult of course due to covid. Whilst the ski slopes are running, many of the "apre ski" bars and hang out locations are shut due to the local restrictions in that country. Does this mean you cannot find a fuck buddy when on the slopes? Not at all! It simply means that instead you need to do it whilst actually out on the slopes rather than in the bar afterwards. So how do you do this? You need to get the person's phone number so that you can follow up afterwards. To help with this, here is a simple failure proof trick to get a girl's number on the slopes every time without fail.
Take a photo. When you see a girl or guy you like do the usual thing of striking up a conversation. Then when you are skiing or snowboarding find a excuse to take a photo. This could be from the top of the mountain with the views. It could be an action shot of them skiing the slopes, or it could be a selfie from the chairlift. Everyone loves a good photo of themselves, so all you have to do the is offer to send it to them. Bam! You have their phone number so that you can WhatsApp it to them. Done.
This technique is a sure fire way to get a phone number. Once you have it, be sure to follow up to see if you can convert it into an evening hook up!