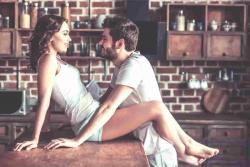 There are times in our lives when we are rich in some areas and poor in others. With the global coronavirus pandemic, it has become much harder to find a fuck buddy during times of lockdown and reduced social contact. This has meant that when we do have a fuck buddy it has become more important to have them come back for second helpings! Well, if your fuck buddy is a man, there are some things that you can say when in bed with them to ensure that they come begging for more each time!
Ready for round 2?!
This phrase works so hard! It tells your fuck buddy that you had a great time and that you want more. It tells them that you want them now. It also suggest, subtley, that there are more than 2 rounds. "Ready for round 2" suggests that there is a round 3 and 4! This is a great phrase – try it.
Spank me!

Getting the odd spank across the naked buttocks stimulates blood flow and has been shown to increase arousal levels. Inviting your fuck buddy to do so is giving them permission to take an intimate step that is great for both of you. So help your fuck buddy be, and feel, sexy with this little invitation.
I give you permission to wake me up if you are horny.

What a wonderful thing to say to a fuck buddy. It tells them that as their friends with benefits, you are going to be there for them. Even if they don't take you up on it, the invitation will make them want to be hard and horny for you.
I want you to choke me with your dick

Men love getting blow jobs. A quality fuck buddy will give them, whether they are into them or not. So if you are going to give them, why not enhance the experience for the man by really making him feel that you really want to give him one? Whether you really want the full choking part, saying this will drive him wild for you.
That, was, perfect
If you had a good time, tell your fuck buddy. They are not a mind reader, and even if you expressed it physically whilst you were together, it never hurts to be explicit that you enjoyed yourself. Even if they knew already, they will glow with pleasure from being told.