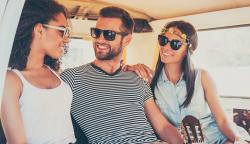 We live in the liberated modern age of sexual enlightenment. Adult dating has become something that more and more people have embraced. We are more open to those who wish to have alternative arrangements and partnerships. This can be simple such as people who hook up or only have one night stands. This could be people who chose to have fuck buddies but od not want any of the strings that are usually attached to relationships. This could be the more classic friends with benefits set up or booty call buddy. However, the modern age has taken this even further. Non-monogamous long-term relationships have become more normal. "Polyamorous" is now an accepted and understood word in more parts and in more circles. People are finding their own way, working out what sexually works for them and setting up relationships that fit around those needs and desires. So, despite all of this, why is it that sex is harder to talk about in this era than previously?
Despite all of our progressive views and advancements in sexual structures, we still can feel uncomfortable around sex. Ironically some of this is actually to do with how we perceive things should be in the modern age! We think that we ought to be having an easy time talking about sex, whether that is with a friend or a fuck buddy, but we find it is not. This exacerbates the issue because there is a stark reality underneath this. Sex is unlikely to be something that will ever be something that is easy to talk about. It is difficult, we expose ourselves when we do so, we leave ourselves vulnerable when that occurs. The way sex functions is not always helpful, nice or kind. Sex can be hard, tough and unforgiving. The way that sex, the lack of it or the results of it can leave us feeling is not always pleasant… and because we live in a world and a society where we think that we should be able to talk about sex comfortably, it actually makes it worse! We feel worse and we put up more barriers because we, incorrectly, think it "ought" to be easy. Sometimes this means that we give up, it often means we hold back from our fuck buddies on this front.
So cut yourself a break and be kinder to yourself when you find it difficult. It is and always has been.