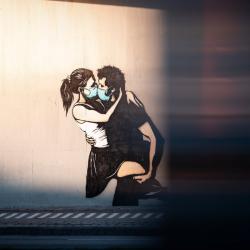 This morning, we all woke up to another day with the COVID-19 restrictions in place. What were supposed to be temporary measures put in place for a short period of time to stem the spread of the coronavirus has become a global pandemic that the entire world is struggling to shake off. There are restrictions on who you can see, where you can go, and who can be under the same roof as you at the same time depending on what they are doing and what you are doing. The rules change constantly and are really rather confusing. There are some things which are hard and fast rules which would mean a potential fine if you break them. There are guidelines where are simply "suggestions" on what you should do and how you should act. There are then the many rules that no one is sure is a guideline or a rule! The one thing that we can be sure of, is that the time of COVID-19 is a great time to have a fuck buddy.
The isolation that is being caused by the reduced interaction as a result of the new coronavirus is being felt across the country. Whether you are in England, Scotland, Wales or even Ireland you cannot escape some level of restriction on your freedom to do the things that you used to do without even thinking about it. As we get used to this new "normal" one of the things that is helping a lot of people to get through it happily is having a fuck buddy.
If you are one of the people that already have your "bubble" fixed in place, it doesn't leave much room to be dating a lot of seeing a lot of the opposite sex without breaking that. Having an exclusive fuck buddy can help with this. Having someone that you can booty call on a no strings attached relationship basis is something which can really help with the feelings of loneliness and isolation. If you and your fuck buddy are careful and mindful of the restrictions, it can be done without breaking any of the rules of the area you are in.
Sex is one of the great happiness boosters in life. If doesn't require money, talent, not any training. It is something that is available to everyone even in these difficult times! So you don't have a fuck buddy and feel that you would enjoy the companionship and contract that having a friend with benefits would bring you, I highly recommended jumping online and finding one.